Braze is able to define a segment of users you may send to Remerge via Webhooks. Below is our step-by-step guide to activation of event forwarding from Braze to Remerge. In case of any questions, please reach out to your Remerge Account Manager.
Pre-Setup
Braze Does Not automatically collect the device IDs (Google Advertising ID & IDFA) on your behalf. Therefore, ensure to collect and provide us with the device IDs. We kindly ask that you start device ID collection early and ideally at the very least several weeks prior to running with Remerge.
Webhook Setup
Fill in a webhook template with the following credentials and review the below screenshot example of successful implementation:
Event name - Give the segmented audience an Event Name, which we later utilize in campaigns.
Unique Application Identifier (Android & iOS). Examples:
# App Store - e.g., 911793120
# Google Play - e.g., com.gramgames.tenten
Remerge Event API Key - Please contact your Remerge Account Manager to receive your Remerge Event API Key.
Uppercased Apple IDFA (Braze's default format), e.g., DBC04712-89D2-4447-9855-559E49ACF8D7.
Lowercased Android Google Advertising ID, which you can achieve by employing the |downcase method in the webhook template, e.g., 10059fa8-870f-4da9-8183-1b428e92a25e.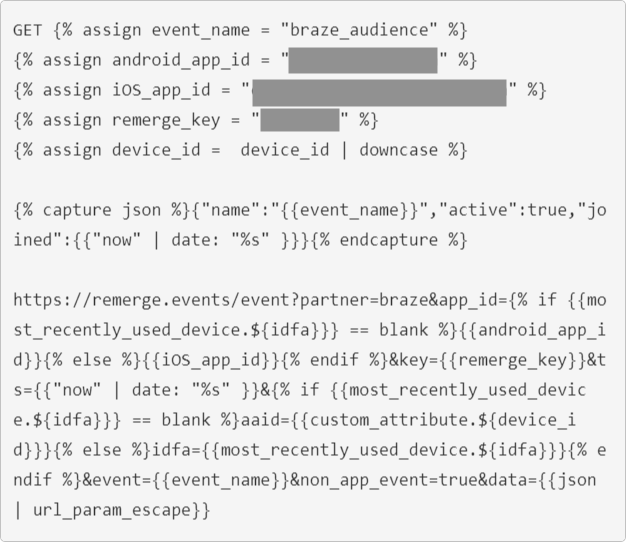 Support & Confirmation
Upon sending the webhooks to Remerge, reach out to your Remerge Account Manager to confirm the arrival of segments. For more in-depth instructions please see How to set up Webhooks in Braze for Remerge.