The following document provides further insight into the Reports platform and answers the most frequently asked questions. In case of any further questions, please reach out to your Remerge Account Manager.
Frequently Asked Questions

1. I forgot my login credentials. What should I do?
You may easily restore access to your account as follows:
Click on the Forgot password? reset request located under the Password box.




The system will prompt you to enter your email address and click on SEND EMAIL.




Check your Inbox (or Spam) for an email from Remerge and follow the below instructions:


2. Why am I not able to find data pertaining to my campaign? What should I do?
The platform can only display a certain amount of data by default, and as such, some data might not be automatically visible upon an initial search.
However, this can easily be resolved by adjusting the LIMIT feature to the maximum amount offered by the platform, as follows: click on the requested dimension (in our example, Campaign) and set the LIMIT to 100 (the maximum, in this case) by selecting it from the drop-down menu, as demonstrated below.
Please note: Neglecting to set the LIMIT feature to the maximum amount prior to exporting a report will result in missing data in the respective report. Therefore, ensure to set the LIMIT feature to the maximum amount PRIOR to initiating your report export.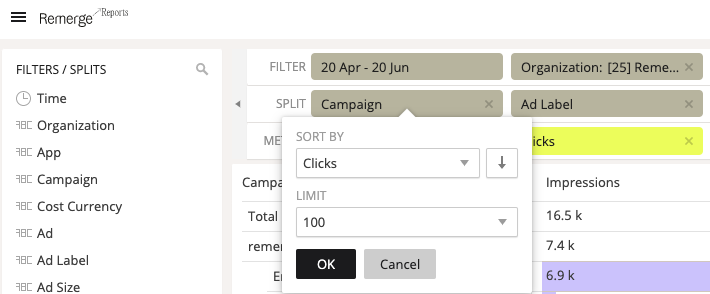 Pro Tip: Employ the displayed above SORT BY feature to analyze your campaign by clicks, impressions, or any other campaign measure of your choice!
3. Why do your numbers differ from the attribution provider numbers?
You are most likely to run with multiple ad networks and/or agencies. However, Remerge does not have visibility or insight into any other campaigns you could potentially be running.
In fact, we count ALL impressions and clicks that have been triggered by our marketing efforts and apply them to the windows and inactivity period communicated to us. Therefore, the Reports platform displays performance data, pertaining to Remerge self-attributed activity ONLY.
4. Does a Remerge conversion event mean the same thing as an attribution provider conversion event?
Great question! No, it does not. A Remerge conversion event is the event you have agreed upon with your Remerge Account Manager (e.g., purchase, booking, or other). However, an attribution provider defines an event as a conversion, should it meet the requirements of their business models. For instance, AppsFlyer conversions encompass aggregated data of re-engagements and reattributions.
5. Why am I unable to find any revenue numbers from previous years?
The Reports platform is a new client reporting tool, developed in 01.01.20. Therefore, the displayed revenue numbers (and for that matter, all of the data offered by the platform), are applicable to data collected from 01.01.20 onward.
6. Should I be able to find incrementality data in Reports?
No, you should not. Remerge Reports is a client reporting tool, offering campaign performance data associated with Remerge self-attributed activity ONLY and does not include incrementality related performance.
7. Should I be able to find cohorts data in Reports?
No, you should not. The Remerge Reports platform does not offer cohorts functionality.