You may grant Remerge with access to reports as well as permission to perform certain tasks, which can be achieved via Adjust's flexible User Permissions, in the Adjust dashboard. This functionality enables you to add users, assign roles to said users and share your data without compromising any information. 
Users can be assigned Admin, Editor, or Reader roles, or granted reading/editing access to specific apps and/or trackers. For further information on each role and its permissions, please visit Adjust's User Permissions page. 
Additionally, Adjust offers the Custom role, which enables you to grant custom users access to specific trackers. This is a fine-tuning option, and in fact, one we highly recommend you to employ by following the below steps:
1. Add your Remerge User 
Log in to your Adjust Account, go to MENU > My Account and to the top of your page, where you should find your five account setting tabs: Your Data, Users, Invoices, Account History, and Pricing Plan. 






Click on the Users tab > ADD USER, as displayed below:


2. Assign a Role 
Enter the support@remerge.io email address under Create User, as displayed below: 




Select the CUSTOM role.




Toggle ON Cost Data, Revenue Data and click CREATE.  Your custom user is now created as per below example: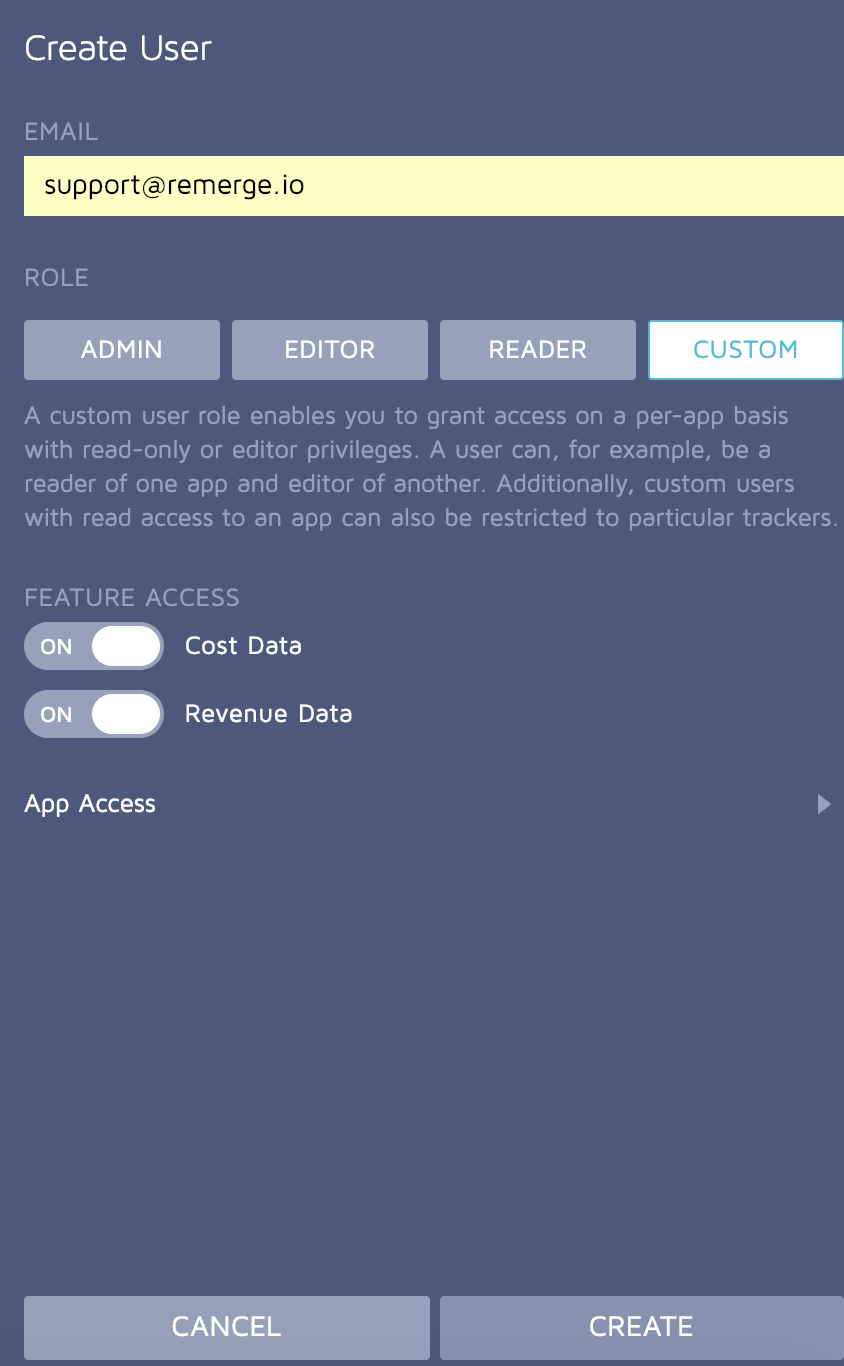 3. Configure User Permissions 
Click on App Access.




Select your app and click on APPLY, as displayed below: 




Toggle ON the tracker you wish to share with Remerge and click on APPLY.




Click on APPLY once more.




Click on CREATE.

 


Below is your newly created user. You may adjust the settings and permissions upon necessity by clicking on the drop-down arrow and repeating the above steps.